Management Biography
OLIVER KEY – MANAGING DIRECTOR
A hotelier with over 25 years of experience in some of the world's finest hotels from London, New York, San Francisco, Hawaii and the Middle East, to his most recent post in Miami, Oliver joined Marriott International in 2011, opening The St. Regis Abu Dhabi as General Manager. Recently, he managed The St. Regis Bal Harbour as General Manager with area responsibilities over The St. Regis Washington, D.C and W Miami.
Prior to joining Marriott International, Oliver was the opening General Manager of the world's first Armani Hotel in the Burj Khalifa, Dubai and The Address Dubai Marina.
In his new role, Oliver will lead the team of The St. Regis Bali Resort and The Laguna, A Luxury Collection Resort & Spa, two of the island's most prestigious luxury resorts and beacons of luxury hospitality, and inspire the team to deliver exquisite experiences to all of our discerning guests.
Nico Alexander Braunwalder - Hotel Manager
Prior to his appointment at The St. Regis Bali Resort, Nico joined Marriott International in 2015 as Director of Food & Beverage at The Ritz-Carlton, Osaka in Japan. Nico has successfully driven vast F&B growth and revenues and developed initiatives that led to substantial increase in guest satisfaction. Nico's affinity for Asian culture and hospitality has established him on the continent for 9 years, working in various leadership roles in major Asian cities including Hong Kong and Beijing. His dedication and passion has enabled him to gain extensive experience in the industry in a number of senior roles in reputable hotels. Nico brings a wealth of experience to lead the resort in delivering the brand promise of St. Regis and contribute to the brand's uncompromising service and legendary experiences.
Fluent in German, English and French, Nico holds a higher diploma (Dipl. Hotelier/Restaurateur HF) from the Swiss School of Tourism and Hospitality in Chur, Switzerland, Nico started his career in 1996 as an apprentice in the food & beverage department in Zurich.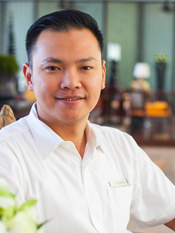 Sudiman - Executive Assistant Manager, Rooms
Sudiman has had more than 14 years of experience in the hospitality industry, before he was appointed as Executive Assistant Manager, Rooms at The St. Regis Bali Resort in August 2015. He was the Assistant Director of Residence in Four Seasons Residences Jakarta from 2010 to 2012 before he moved to Grand Hyatt Bali and held the role of Assistant Director of Rooms for the next 3 years. His passion in the field of hospitality has brought him to many places but none exceeds his most memorable experience: when he was appointed as the Head of Lounge for a private jet company.
Carlos Constanzo - Chief Butler
Carlos realised his passion for aligning his energy into assisting others from an early age and after college, signed up with an Australian Butler School where he earned his certification of Butlering. He started his Butler career in Crown Towers Hotel in 1996 and left seven years later from a senior villa butler position. Carlos' next phase in the world of butlering saw him attending to prominent dignitaries, including many royal delegations and former Presidents Bill Clinton and George Bush Senior, as well as international celebrities such as Barry White, sporting heroes and political legends. He was appointed by Crown Towers for two years to provide butler services for them, after which, he worked as a personal butler to Will Smith and Jada Pinkett Smith in Hollywood, USA for many years. With his wealth of knowledge and experience as a Butler, Carlos then consolidated his career with a tertiary certification enabling him to be a trainer, which he undertook in USA and Australia, prior to his appointment at The St. Regis Bali Resort in 2010.
Agung Ardiawan - Director of Culinary
Chef Agung began his career with St. Regis Bali at its opening, after over 10 years of senior management positions in the culinary scene in various hotels in Bali.
He brings to his role a creative ability for the resort's food and beverage outlets to reinvent and add new menus and recipes as the market demand for gastronomic indulgence grows continuously. Under his leadership, Gourmand Deli's first full lunch and dinner menu was created with French and Italian epicurean delights. He also pioneered the extension of Boneka restaurant and the establishment of the intimate Dulang restaurant, an authentic Indonesian restaurant surrounded by lush tropical park.
As the Director of Culinary of The St. Regis Bali Resort, he currently manages the resort's 4 award-winning dining venues and 2 bars, including the iconic signature restaurant Boneka and the specialty beachfront fine dining restaurant Kayuputi.